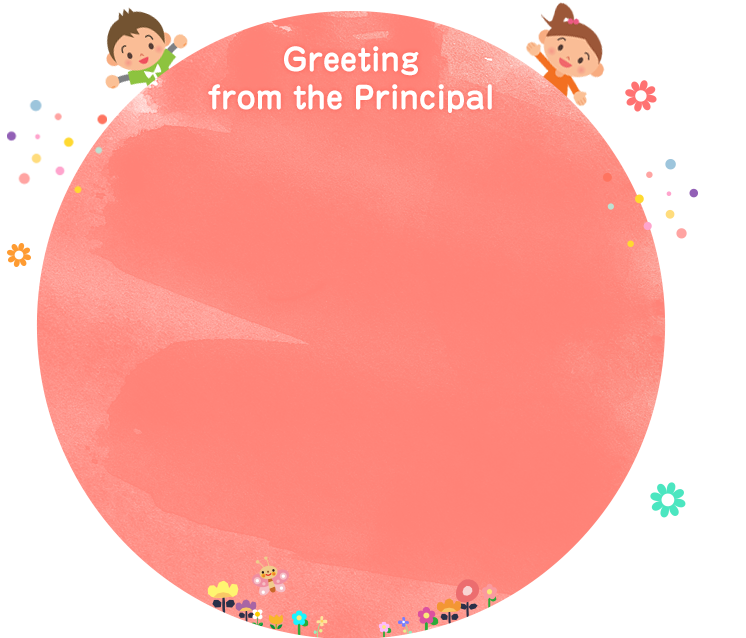 Each and every child's life is an irreplaceable,
one of a kind existence.
I believe all we can do is, firstly, to always be
thinking about what is best for the children when
facing each child. And secondly, do all in our power to
support them.
At Shuzenkai infant home, in addition to providing
superior care, safety and security, we want to help chil-
dren learn to value everyday experiences, such as paying
attention to fish and vegetables while grocery shopping
and waking up to the smell of rice cooking. We also
want to help them form deeper relationships with
their communities, so that they can develop
healthy bodies and minds.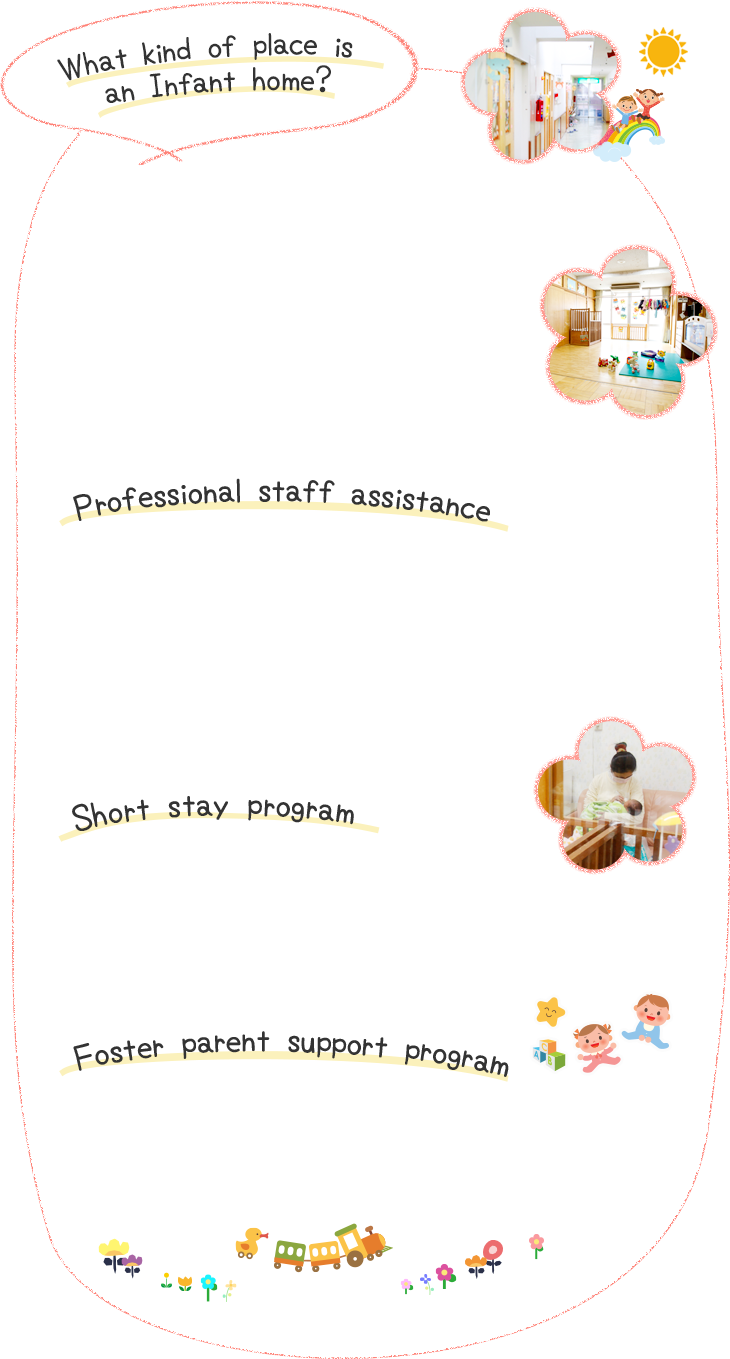 Based on the Child Welfare Law, an infant home
is a place where infants can be cared
for during essential times, if a household
is facing difficulties with child-rearing
during.
In addition, they also take short term
admissions for when the mother is
giving birth to another child or is ill.
We watch over the health and livelihood of the
children and raise them by employing staff such
as foster parent support specialist counselors,
nursery teachers, nurses, family assistance speci-
alist counselors, psychologists, nutritionists,
kitchen staff, doctors (commissioned).
We also provide short stay programs
(limit of one week) for situations where difficulties in supporting a child at home arise, such as cere-
monial occasions or business trips.
Our foster parent support specialists provide
consultation services for foster parents and
help match them with children.

While ensuring that the delicate daily rhythm of your baby is
cherished more than anything, information relating to their
well-being, such as their temperature and bowel frequency,
is circulated among staff.
Also, in addition to installing breathing monitors to baby cribs,
we take careful preventive measures to reduce the risk of personal injury or falls, and pay close attention to hygiene to prevent viral infections.
Cooking lessons are conducted once a week in the nursery
room, where children learn to cook rice and make snacks together using a hot plate.
They are able to experience a relationship with food through
all five senses by waking up early to the smell of rice cooking,
or by watching pancakes cook right in front of them.
Children experience firsthand the various events and cere-
monies of each passing year, such as taking an iris petal bath
during the Boy's Day celebrations, taking a yuzu bath on the
winter solstice, eating osechi on New Year's Day, viewing cherry
blossoms during Hanami season, making wishes on Tanabata, moon gazing on Tsukimi, and celebrating Christmas.
We pray for the healthy development of each and every child,
and celebrate their life milestones by taking part in events such
as shrine visits, weaning ceremonies, and dressing
in kimonos for the Shichi-Go-San festival.
In addition, children enjoy one-on-one field trips to the aqua-
rium or Moricoro Park with their supervising staff during their
birthday month to celebrate.
We maintain a low ratio of staff to children, allowing them to
watch children carefully and build more trusting relationships.
We support the safety and security of our children by helping
them develop fundamental lifestyle habits such as eating
meals, playing, going for walks and taking baths.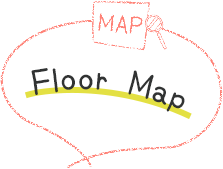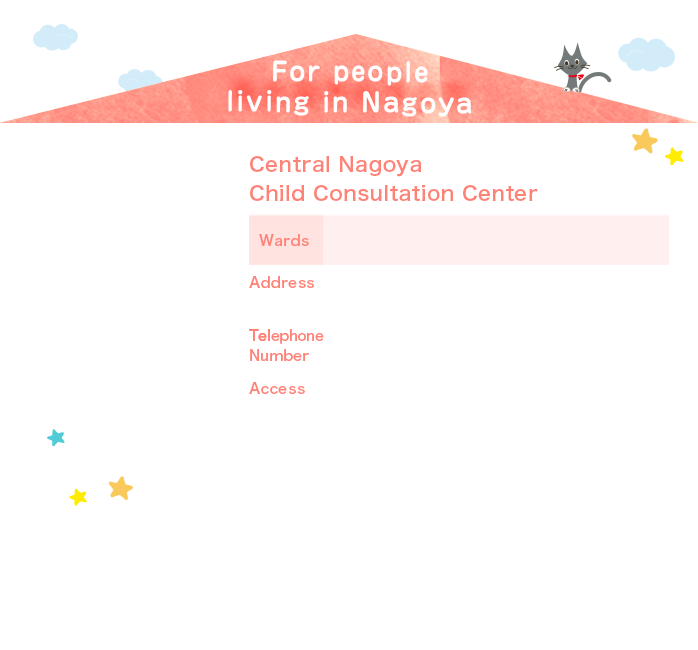 Chikusa, Higashi, Kita, Naka, Showa, Mizuho,
Moriyama, Midori, Meito, Tempaku
4-16 Orido-cho, Showa ward, Nagoya
466-0858
(052)-757-6111
Train
12-minute walk from exit 1 of Kawana Station
on the Tsurumai Line
City bus
3-minute walk from Miyauchi bus stop
・Sakae Route No. 17 (Sakae ⇔ Nagoya Daigaku)
・Yagoto Route No. 12 (Chikusa Station (via
Okute) ⇔Shimada Hitotsuyama)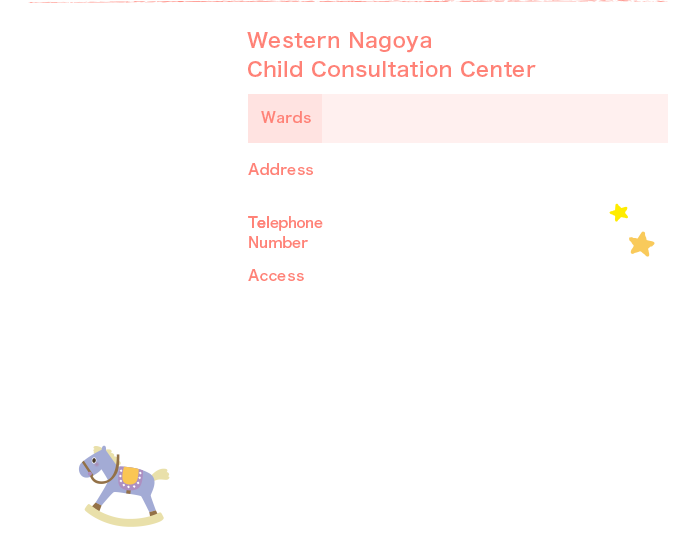 Nishi, Nakamura, Atsuta, Nakagawa, Minato,
Minami
1-20 Koshiro-cho 1-chome, Nakagawa ward,
Nagoya 454-0875
(052)-365-3231
Train
Aonami Line
5-minute walk from Minami-Arako Station /
8-minute walk from Arako Station
City bus
4-minute walk from Arako Kannon
Kanayama Route No. 21 (Kanayama ⇔ Takabata
Subway (In front of Nakagawa Bus Terminal))